Are you a woman experiencing hormonal changes, sleep, weight or energy issues? My online yoga classes may help you!
Are you looking for ways to;
I can help you! I am giving online yoga classes to women like us, sharing benefits of Yoga through meditation, movement and breathing techniques.
Ceylan Ayik – Yoga Alliance Certified Yoga Teacher
Would you like to try a free Yoga Discovery Class?
Stay Calm & Strong with Yoga!
My yoga classes are a mix of Hatha Yoga classes– Power Yoga classes – Vinyasa Yoga classes.
I have created a unique style especially for women over 40 years old. The yoga classes are suitable for those who are going through some hormonal changes and in need of relaxation and more energy as well as getting stronger and lighter.
If you are a beginner, then that's great, I love supporting beginners. If you are seasoned yogi, that's also wonderful, let us share our practice and explore the depths together.
And bring light, calmness, flexibility and peace to your spirit, mind and body!
Online Yoga Classes Live from Switzerland
You can easily yoga book classes with using a mobile app which is completely free of charge and available for all smartphones. Once you buy a yoga class, I will create an account for you and you will be able to book classes, track your booking history and remaining classes in your package. 
Choose Your Online Yoga Classes!
| DAYS | YOGA CLASSES | HOURS |
| --- | --- | --- |
| TUESDAY | Gentle Relaxing Yoga | 12:30 CET |
| WEDNESDAY | Power Vinyasa | 19:15 CET |
| THURSDAY | Power Vinyasa | 12:30 CET |
| FRIDAY | Gentle Relaxing Yoga | 08:30 AM CET |
| | Power Vinyasa | 14:30 CET |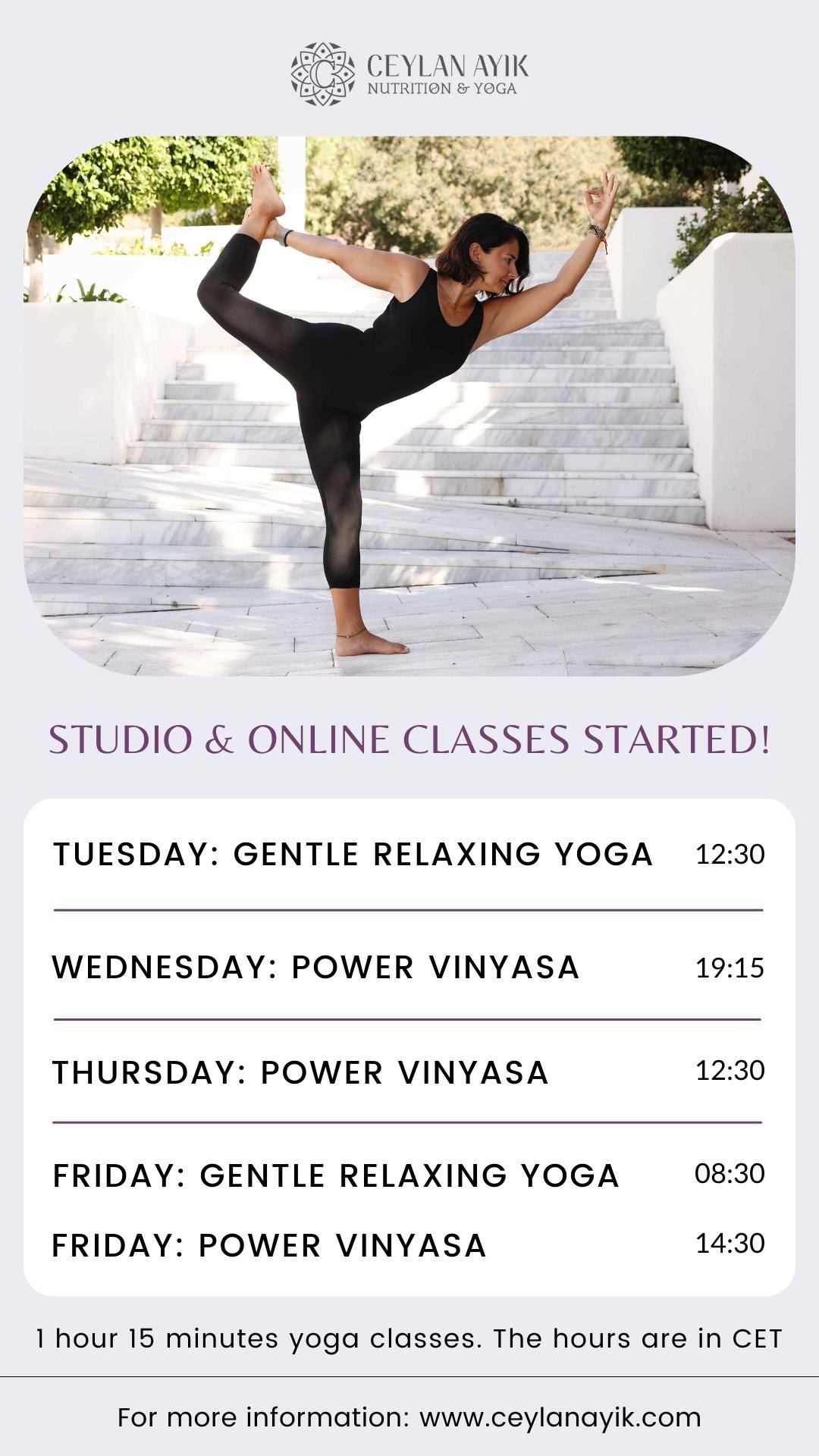 Gentle flows for stress release on Tuesdays
Energising power vinyasa on Wednesdays, Fridays and Thursdays
With a deeper dive like a yoga laboratory clinic on Thursdays. 
Discount for New Comers! Here comes my annual NEW COMERS package, an opportunity to do yoga with me, for us to meet!
Here are some testimonials from my previous yoga classes & programs. 
"Ceylan's online classes are my sunshine of the day . The classes every week focus on some specific parts of the body leaving you with so much mind and body benefit . 
Even on line she  can spot your position and always gives you the right advise for each posture .
Her classes keep our yoga community united in this moment of uncertainty."
"Practising yoga is helping me a lot to cope with this pandemic. I'll be in a very dark place without our practice. Having you and the group is extremely comforting and I don't think I'll have the same feeling if I was in a group where I know nobody. 
The online class helping me to keep practicing, maintaining a daily routine and most important spirit is hight and optimistic "
"Hello yoga practioners and inspiring yoga students to be!
I have a fantastic yoga instructor, Ceylan Ayik, with whom I have been practicing yoga for over 6 years. I can not recommend her highly enough- she is a certified yoga instructor, nutritional coach and an overall excellent instructor and lovely person. She provides personal attention to her students, yet you are not cramped for space in her calm home studio."
Yoga is a mind and body practice with a 5,000-year history in ancient Indian philosophy. Various styles of yoga combine physical postures, breathing exercises, and meditation or relaxation. Yoga is a great way to improve your overall health and well-being. It is a low-impact exercise that can be done by people of all ages and fitness levels. Yoga also helps to reduce stress, improve flexibility, increase strength, relieve pain, improve mental health, and promote overall health and wellness.
Frequently Asked Questions About Online Yoga Classes
Have You Seen My Youtube Channel?
You can watch my free online yoga videos on my Youtube channel!