Hi! I am Ceylan Ayik, I am passionate about empowering women going through hormonal changes in their 40s, to transform their mind, body and spirit through delicious and healthy nutrition, yoga, meditation and Ayurveda.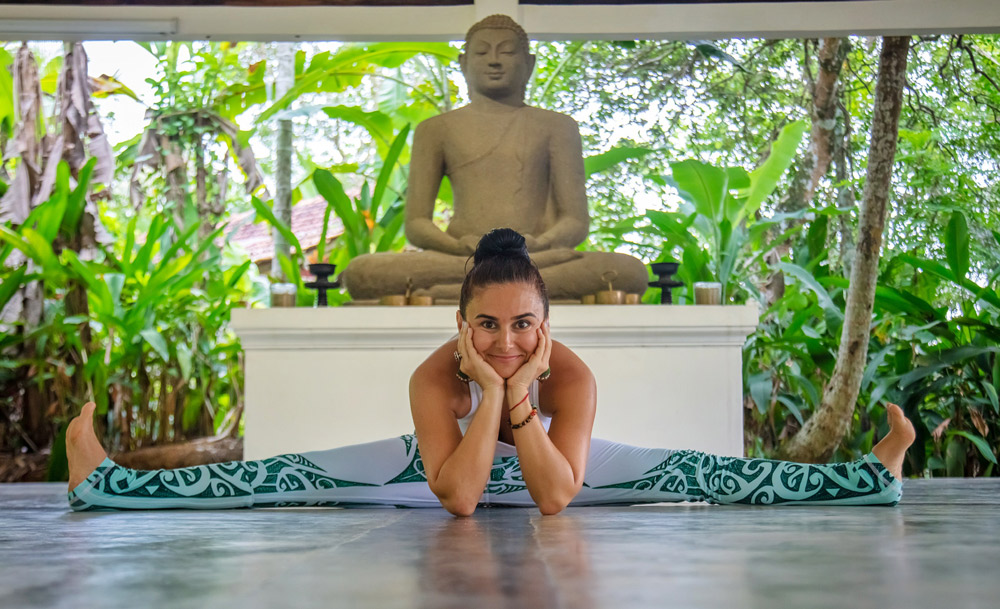 As a yoga teacher and teacher trainer, I teach online, in studios and at retreats/workshop, programs aimed to make women stronger, lighter and peaceful. See my upcoming yoga classes: Yoga
I have created and run an online program, ZenFitGourmet for women going through hormonal changes and wants manage these years with optimal health and wellness. For more information: ZenFitGourmet Holistic Coaching
I am a certified Ayurvedic Integrative Nutrition Coach. I have Ayurvedic cleanse & coaching programs for women. You can check them on this page: Ayurvedic Nutrition
I run yoga retreats on Swiss Alps twice a year. These yoga retreats ar weekend retreats where we do yoga, meditation, hiking, mindfullness and nutrition talks and more. Learn more: Yoga Retreat
Ayurvedic Integrative Nutrition
I am a certified Integrative Nutrition Healthy Living Coach, Yoga Alliance RYT 500 hours Yoga Teacher and YACEP Trainer. I received my wellness coaching training at Integrative Nutrition in New York City where I had the opportunity to learn from the world's leading experts in the field of holistic health and nutrition. I am also certified for Mindful Eating and Yoga, from "Am I Hungry?" Mindful Eating Programs with Doctor Michelle May.
I am a certified Ayurvedic Integrative Nutrition coach from Vedawise with Laura Plumb. Currently, I am training with Divya Alter at Bhavagat Life on Ayurvedic Nutrition and Culinary Program.
Yoga is My Life
I received my 400 Hour Hatha and Power Yoga Teacher Training in Switzerland, 100 Hour Hatha Antastha in Goa, India. Then 100hour Advanced Yoga Teacher Training on Body Reading and Anatomy in Nyon, Switzerland with Yogalife school. I also did 100 Hours of Advanced Training with Yogalife and 50 Hours of Yoga Nidra training in India.
Healthy, Empowered, Inspirational Women
Alongside my busy family health coaching practice and yoga teaching, I am a mother of two, wife, writer for my Fit & Gourmet blog.
As a Yoga teacher and Wellness Coach I work with busy women to empower them on their journey to create a happy and healthy body, spirit and family life.
I want to support amazing women, just like you, to nourish themselves and their families with fun, knowledge, delicious food and create a life free of denial and guilt!
Life Before Coaching!
Prior to my coaching life, I worked in the marketing departments of international companies in the food and beverages industry for more than 15 years and did many new product launches and campaigns. I was a busy working mom, trying to manage my time among my family, house, work, sports, friends…you probably know the story!
I changed so many habits that I would never think that I could! I was drinking almost a liter of Diet Coke, 3-4 cups of coffee, plus some black tea. I loved eating cheese and breads/crackers in the afternoon and always snacked in between meals with my "diet crackers"! Tried so many diets and usually disappointed with the results. I had a sedentary lifestyle, had no or just a little time to exercise. I did my best for a healthier living yet struggled to keep it consistent.
These years, in my late 40s, I am going through some hormonal changes due to menopause knockings on my door! I am going through new challenges like sleep, stress, weight gain, foggy brain and concantration, lack of motivation for life. Through my coaching and yoga training, I finally enjoy a healthier lifestyle, consistent and pleasurable for myself and my family.
Contact Me
By working together we will discover the food and lifestyle choices that best support you, and your family. Getting this kind of support to transition to a healthy lifestyle is the best commitment you will ever make (trust me I know, because I have done it!).