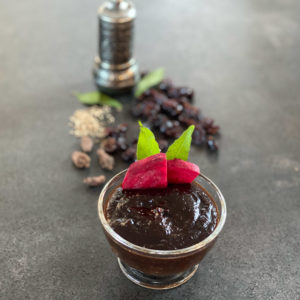 Cooling Chutney – Ayurvedic Ketchup
Chutneys or "pestos' ' or you can call "dips, sauces" are small in quantity but have such a powerful effect on your meals. They are a combination of sweet-sour and pungent tastes and use herbs-spices to enhance it even more. You can add a fruit for sweetness, olive oil or avocado for healthy oils, and veggies like beetroots for taste and color.
Ayurveda advises us to have 6 tastes in our meals, which are sweet, sour, salty, pungent, bitter, and astringent. You may adjust one or two of the tastes according to your dosh (unique constitution) or imbalances. For example, if you are a Pitta person and/or have Pitta imbalance, you are most probably on fire – have acidity, heartburn and indigestion problems. 
So, a chutney/sauce with sweet-astringent taste will help you to balance this!
Ingredients
⅓

cup

Cooked (boiled or baked) beetroots

¾

cup

Dried cranberries

1.5

tbsp

Olive oil

½

tsp

Digestive Masala Mix: ¼ teaspoon of Cumin-Coriander-Fennel seeds, ⅛ teaspoon of Cardamom seeds (not the pods, but the black seeds inside) mixed and grinded into powder, mixed with ¼ teaspoon of ginger and 1/8spoon of turmeric)

¾

tsp

Salt (or to taste)

1

tsp

Maple or date syrup

⅛

tsp

Fresh lime juice (optional)

6

Curry leaves

(Optional)

1

tsp

Pomegranate molasses

(Optional)
Instructions
In a medium saucepan, add 1 cup water, the cranberries, masala, olive oil, curry leaves, salt. Bring to a boil, then lower the heat and simmer uncovered for 15 minutes, until the cranberries are soft. Set aside to cool

Add the cooked ingredients, beetroots, the maple syrup,pomegranate molasses, and blend until very smooth and creamy. If the sauce turned out too thick, add a little water. Taste the sauce first without lime and decide if it is sour enough for you

Serve at room temperature and you can store refrigerated, in an airtight container for up to ten days