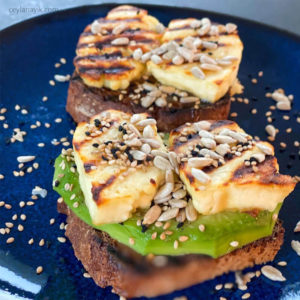 Fresh Cheese Recipe
It is soo easy to make fresh cheese at home! All you need is fresh milk and lime juice. You can also use yogurt, lemon or other agents but for me lime juice tastes the best.
I learned this from my Ayurvedic Culinary Training with @divyaalter at @bvtlife and been enjoying it since then many times with such joy!
Sometimes I keep it loose and mix with spices and sometimes I press and make slices.
Equipment
pot

pan

Spatula

Cheese cloth
Ingredients
1

cup

Milk

1

tbsp

Lime Juice

(Or yogur / lemon)
Instructions
Gently boil and then simmer the milk at Low heat

Slowly Add half of the Lime Juice and stir gently. You'll start to see the cheese particles.

Add the rest of the lime juice, keep stirring

Turn off the heat when cheese particles increase, stick together and the water is seperated and start to change color (to yellow-greenish)

Strain the water or collect the cheese from the pot with strainer spatula.

Put it in a cheese cloth and squeeze the water (be careful it is hot!)

Place the cheese on a board and place another board or plate and add heavy stuff on top for about 10minutes

Gently open and cut into pieces