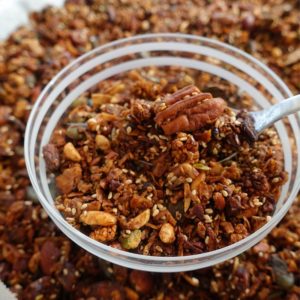 Orange & Chocolate Granola
Finally I found my dream granola! The one with nuts-seeds and dried fruits, without any oats or other grains, crunchy and delicious with cacao-orange flavors! The original recipe is from Brooke Brennan and I added some other ingredients. You can also mix and match the ingredients at home. You will love this recipe with Low Carbohydrate.
Ingredients
1

cup

Nuts

(I used 1/3 Cup each of: almonds, pinenuts, peacan, pistachio and walnuts)

1 / 2

cup

Seeds

(Pumpkin, Sunflowers)

1 / 4

cup

Chopped Medjool Dates and / or Dried Apricots

1 / 4

cup

Goji Berries and/or Mulberries

2

tbsp

Chia Seeds

2

tbsp

Hemp Heart Seeds or Flaxseeds

3

tbsp

Fresh Squeezed Orange Juice

1

tbsp

Orange Zest

2

tbsp

Melted Coconut Oil

1

teaspoon

Cinnamon

2

tbsp

Raw Caco

1 / 2

cup

Unsweetened Coconut Flakes

A small pinch of Sea Salt
Instructions
Preheat oven to 165 degrees celcius

Prepare the oven tray with a baking sheet

In a small pot, mix coconut oil, orange juice, cinnamon and salt

In another large bowl, mix all of the remaining ingredients to combine

Pour the liquid mixture over dry ingredients and mix them well

Place this mixture over the oven tray making a single layer

Bake for 20 minutes (or until toasty), mixing the granola on the baking tray every 5 minutes for even baking and no burning

Once baked, keep it for cooling down in the baking tray for about 10-15 minutes

Keep in an airtight container and better keeping in refregirator and enjoy a longer time!
Notes
I love adding a spoon of it to my coconut yogurt as an afternoon snack as much as my practical breakfast. I must say that I need an extra protein with this if I know I can not eat until late midday so I boil and egg, too.