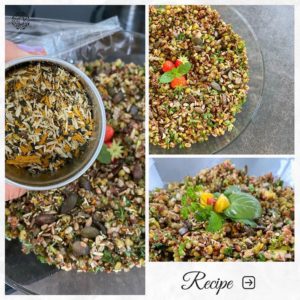 Quinoa & Mung Bean Salad
Quinoa and Mung Bean Salad: A Summer Kitchary version!
My close friends know this one very well since I keep making different versions of it since a long time! This weekend I made the perfect combination – so far- as I might come up with new ideas and would love to know your ideas, too!
Ingredients
1

cup

Mung beans

(Soaked in water overnight)

1

cup

Red quinoa

(Soaked overnight or use as is)

2

cups

Chopped herbs: parsley, mint, dill, basil, coriander

1/2

Avocado, chopped in small cubes

1/3

cup

Pineapple, chopped in small cubes or pomegranate seeds

2-3

tbsp

Sunflower and pumpkin seeds and pine nuts mix
For the Sauce
1 lime juice, 2-3 tbs olive oil, 2-3 tbs balsamic vinegar or pomegranate molasses sauce, Pink Salt and
Optional
1/2tsp honey

(Optional)

I found this mix of dried mango-coconut shreds and chilli pepper to sprinkle on top, you can try to make your own or just skip this.

(Optional)
Instructions
Drain quinoa and wash very well under running water. Then boil in water for about 7-9 minutes (like pasta) with a pinch of salt and keep it al dente (like pasta again!). Drain and keep aside.

Drain mung beans and boil and when the white foam appears on top of water, drain it again and put into new fresh water and boil one more time until they are soft enough. Do not add salt as it gets harder to cook.

Meanwhile toast your seeds and pine nuts in a dry pan until they are lightly brown color and leave them aside to cool.

In a big bowl, mix quinoa, mung beans, chopped herbs and mix well.

Mix your sauce in a small jar and shake well.

Add mango, avocado, half of seeds and pine nuts, and the sauce and mix them all gently with 2 table or salad spoons.

Place this mix into your serving dish and sprinkle the remaining seeds and pine nuts and if you have/prefer, the coconut shreds-mango shreds and chilli pepper mix.

Decorate with herbs and 1-2 fruits as well