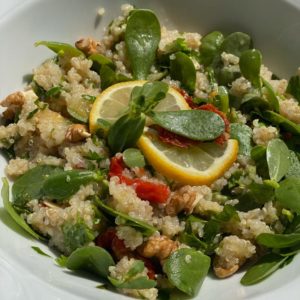 Spring Fest Salad
Spring is the time for healing and growth, bringing life with blossoms, melting away the heaviness we have accumulated throughout the winter season. Now with Covid in our lives, we have this need even more, being in harmony with nature, detox the toxins and take in nature's spring offerings.
This Artichoke, Purslane and Quinoa salad with lots of lemon juice and olive oil is a perfect mix combining what we need for spring, eliminating toxins by strengthening your internal fires and improving circulation.
In Spring time we aim to eat warm and cooked food to balance. So having warm salads with a touch of herbs and sometimes cooked greens is the best way to enjoy spring bounty with easier to digest ways.
Artichoke helps to pacify Kapha Dosha which is aggravated in spring, and leafy greens are loaded with fiber binding together toxins in your digestive track. They act like industrial scrub brushes – the perfect help to your body's spring cleanse work.
Quinoa is fluffy and lightweight with a nutty crunchiness that is perfect for spring season when we aim to balance the heaviness of earth and water elements with more air. It is also rich in iron, and restores strength to deficient blood. It contains more calcium than milk, and is rich in magnesium, phosphorus, strengthening kidney yang.
There you go with a rich combination to use healing powers of the nature.
Ingredients
1

Artichoke Heart

1

Handful

Purslane Leaves Washed and Picked From Stems

1

Handful

Quinoa

1

tbsp

Olive Oil

1/2

Lemon Juice and Zest to Taste

Fresh herbs like mint, parsley, dill, coriander to decorate

Salt & pepper to taste

Optional: fermented lemon chutney, walnuts and soaked and soft dried tomatoes
Instructions
Boil or steam artichoke heart with a bit of lemon juice and olive oil

Wash and drain quinoa very well before cooking and then boil like pasta with enough water to cover and make sure it is crunchy and not so mushy (takes about 5-8 minutes). Drain and set aside

Spread the purslane leaves on your plate

Add part of the cooked quinoa and add artichoke heart on top

Place some more quinoa in the middle of the artichokes and decorate with fresh herbs

Mix lemon juice, olive oil, salt, lemon zest and pour over the plate

Alternatively, you can mix them all in a bowl, slicing artichokes in to little pieces, adding pieces of walnuts, sliced dried tomatoes and the sauce. Decorate with fresh herbs

Add 1tbs of fermented lemon sauce chutney on top