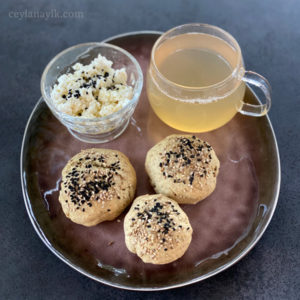 Einkorn Protein Breads & Homemade Cheese
Do you also wake up in the weekends with a craving of the smell of fresh baked something? Could be a cake or bread but on weekends I crave baking! Baking is a great cooking technique to calm and ground us in Autumn and Winter.
Eating these fresh baked protein breads (egg and yeast free bread) with my fresh (even warm) cheese, adding some olive oil-pink salt and trikatu spice for better digestion of cheese and finally some raw honey on top was a truly nutritious delight of my morning!
Ingredients
1/2 cup einkorn flour, 1/3 cup vegan protein powder or chickpea flour

1/3 teaspoon of salt

1/2 teaspoon of baking powder

1/4 teaspoon of baking soda

Add 2 tablespoon of olive oil or melted ghee

1/2 cup almond milk or buttermilk

1/2 tablespoon of lime juice
Instructions
In a bowl, mix dry ingredients well

Add the liquids and mix them all with a few strokes until you form a smooth dough (avoid the temptation to play with dough and don't overmix)

Divide dough into 3 little balls and shape them with wet hands

Brush a little more almond or butter milk and sprinkle kalonji, poppy, cumin or sesame seeds

Bake in oven at 180degrees celsius about 15 minutes, until it turns into slightly brown crust

Eat warm with your homemade cheese!