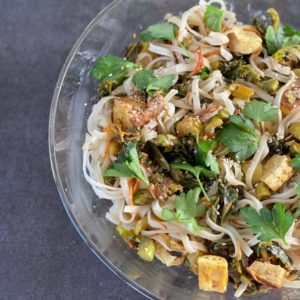 Rice Noodles A La Ayurveda
Why did I not try these rice noodles before?? So delicious, filling and gluten free, and so can be part of a cleansing-elimination program! I am following a Winter Cleanse program and trying new recipes with creative ideas. Here I mixed a few recipes together.
When you think of detox or cleanses you think of limiting yourself too few ingredients. However in an Ayurvedic cleanse, you learn to play with many spices and new ingredients and nourish your body and soul so well that you never feel deprived. Each spice in this dish has a purpose and support to your digestive energy. Isn't it great that we use nature to heal us and remind us that we are part of it and we have the same healing power of nature!
I am learning so much in this Ayurveda training and hope to share with you more soon, so let me know if you are interested, too!
Ingredients
A Pack of Rice Noodles

200

g

Tofu Cut Into Squares

3

cups

Seasonal veggies like carrot, celery, asparagus, kale, spinach, broccoli, beets… chopped

2

tbs

Soya or Tamari or Shoyu

1

tbs

Vinegar

1

tbs

Lemon Juice

1

tbs

Mix of winter spices: Powder ginger, turmeric, cinnamon, black pepper, fenugreek

Pink Salt and black pepper to taste

1

tbs

Grated fresh ginger

Fresh herbs like parsley, basil, dill to garnish
Instructions
Boil and cook the rice noodles and set aside

Then add some ghee in a pan, add winter spice mix and toast a minute

Add 1 tsp fresh ginger and cooked another minute

Add the tofu cut in mini squares and mix in chopped veggies, like celery stalks, kale, asparagus, grated carrots and celery roots, and cook them altogether, making sure all are covered nicely with the spicy oil

Cover and simmer about 10 minutes so that everything gets soft enough, easy to digest in a cleansing program!

Mix 1 big tablespoon of almond butter with 2tbs of tamari (soya), 3-4 tbs of hot water, 2 tbs of sesame seeds, 1 tbs of vinegar and 1 tbs of lemon juice, plus some pink salt-to your taste

First place rice noodles into a big serving dish, add the veggies and tofu and pour the sauce on top, mixing gently for the sauce to penetrate them all

Garnish with fresh herbs and serve with some more lemon or tamari if you like!