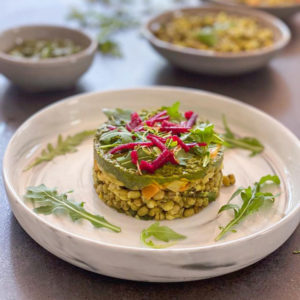 Tartar de Plants
I made this delicious variation in Megeve at the @satiamyoga festival. I did it with lentils and raw vegetables and it was great yet my tummy always find it difficult to digest the lentils and raw vegetables. This is due to my Vata dosha – Constitution which has low digestive fire-energy.
Ingredients
1/2

cup

Mung beans

2

tbsp

Ghee

1⁄

tsp

Grated fresh ginger

1⁄8

tsp

Chillies (omit if you have a fiery digestion)

1⁄4

tsp

Ground turmeric

1⁄4

tsp

Each ground spices: cumin, fennel, coriander seeds and 2 cardamom pods, pounded in a pestle and mortar or coffee grinder (make sure to take away the cardamom skins and only use the black seeds inside the pods)Pink or Soma salt

2-4

tbsp

Lime juice

1/2

cup

Chopped fresh herbs like parsley, mint, dill, coriander; plus 2 tablespoons of herbs for decoration

1

tbsp

Olive oil

1⁄2

cup

Chopped seasonal vegetables (cut into thin slices or shaved into noodles). You can use vegetables like carrots, beetroots, zucchini, sweet potatoes and use only one or a mix of several of them

A metal ring or you can make a ring from aluminum folio with about 10cm diameter. Optional: 2-3 tablespoons of chutney of your choice
Instructions
Soak mung beans overnight

Drain and boil until cooked

Melt some ghee and add spices like powder ginger, cumin, coriander, fennel, curcuma, cinnamon, cardamom

Add mung beans and sautee

Chop herbs like parsley, mint, coriander finely and mix to cooked beans

Add tamari (soja sauce wo gluten) and lime juice and pink salt to taste

Make a chutney/pesto, recipe here

Sauté vegetables like leeks, carrots, zucchini, sweet potatoes, etc cut like noodles or very thin slices with a peeler. Sauté in ghee and spices like mung beans until, they are soft

Take a metal ring or create one from aluminium foil (or use a bowl) to place mung beans first, then veggies, then the herbs chutney (or just cut herbs)

Decorate with sprouts or other veggies like beets, salads like rocket or more herbs like mint, basil!

Enjoy as a delicious main meal, great alternative to tartare lovers!