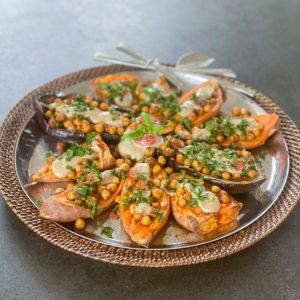 Chickpea Stuffed Sweet Potato and Aubergines
Such a wonderful combination of 6 tastes, spicy and astringent chickpeas, baked sweet potato and aubergines, and then sour & bitter tahini sauce. I added a little garlic (pungent taste) while sautéing chickpeas with spices that can help digesting, like cumin, coriander, astofedia.
Ayurveda advises to have 6 tastes in your meals so that you feel satisfied and not search for any other taste or food afterwards. We usually tend to have too much sweet or salty tastes and lack the astringent-pungent-bitter tastes. Adding herbs, lemon peel and tahini sauce makes this dish a complete one with all tastes.
Enjoy this as a meal by itself or accompanying your Spring BBQ parties!
I am curios, which taste is your favourite? Mine is sweet, salty and sour! And sometimes bitter (like bitter chocolate!)
Ingredients
3

Sweet potato

1

big

Aubergine

1

cup

Chickpeas (cooked or canned)

1

tsp

1 tsp of each: cumin, coriander, cinnamon and optional astofedia

1

pinch

Red chilli or cayenne pepper

2

tbs

Tahini

1

Clove garlic

1

Juice of 1 lemon

(+ 1/2 teaspoon of its peel)

Herbs like mint, parsley to garnish

Optional: A few cherry tomatoes

Salt & Black Pepper

Olive oil

(or coconut or ghee)
Instructions
Adjust oven to 200 degrees Celsius

Wash and peel the aubergines making stripes

Wash & brush sweet potatoes well, keeping skins on

Divide veggies lengthwise into 2

Spread some olive oil to sweet potatoes and aubergines, sprinkle some salt

Bake them in oven for about 30 minutes

Meanwhile, add oil to your pan and add spices, allow them to cook for about 1 minute

Add minced garlic and sauté for a minute and add the chickpeas. Sauté for about 5-7 minutes until all chickpeas are well covered with spices

Chop your herbs (and tomato) finely add a pinch of salt, a few drops of lemon juice and lemon peel

In a small bowl, mix tahini, salt&pepper and lemon juice and a pinch of cayenne/red pepper

Use a fork to mash a bit the surface of the potatoes and aubergines and add the chickpeas and tahini dressing

Decorate with herbs before serving