Spicy rice stuffed mussels! One of the favourite summer classics in Turkey! How can you not have a bite of this or your mom's favorite dish or a glass of ice cold Raki (A local spirit) and delicious fresh fruits or the artisanal ice cream or or or…the list goes on and on and on like crazy!
You may have also been following my new experiment with the ketogenic diet where I limit carb intake to 25g per day and the rest is fat, protein and vegetables only!Once you start to limit your carbs you realise just how much life revolves around them!! And how much our holidays are planned and lived around meals we eat, and during almost every meal, we start to plan the next big breakfast…or another fish-mezze occasion or a local artisanal speciality:))So, we could say it is pretty obvious, that whilst on holiday that we can not stick 100% to a "low-carb" or any type of calorie restricted diet – unless you have a health issue that requires 100% commitment.
However, I think I have found the best solution this year (at least until now, and one that works for me). I have tried and tasted almost all of these special meals-dishes-produces with 100% mindfulness and with minimum quantity. For instance I ate mussels twice during the holidays and limited myself to just 2 pieces each time. I have also only had one ice cream during these weeks, but I made sure it was of the finest and best quality and made sure I enjoyed every moment of every mouthful, savouring each bite without any guilt or dieters remorse!
So, if you pay attention to your portions and are aware of what you are eating , it is possible to enjoy anything!
Raki ( a local drink like ouzo) and Mezze, like wine and tapas are the irresistible local tastes in Turkey. This special one (again) is wrapped shrimps with garlic yogurt and spicy butter sauce.
Yet, I have more important points about staying within your goals during summer or holiday of any kind for that matter.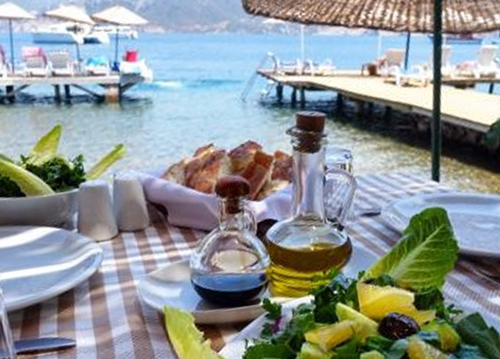 Wake Up Early and Explore!
My second point is about exercise. In the last couple of years, holidays have become much more active for me and I am so happy with this change in mindset. It helps me to balance my holiday better, to allow myself treats or cheats without ruining my holiday mood with feelings of guilt.And thanks to my morning yoga, walks or long swims, I learn and discover more about the places we visit during the holidays. I also try new types of exercise which is so much fun and part of the experience!
We must have spent 5000 calories on that board!!
My biggest problem used to be waking up early, but now (probably because I am getting old!!) I find the early mornings so magical, and I usually compensate the early morning starts with a mid-day nap!!
So enjoy your holidays, with another perspective and keep up with your wellness goals.
See and experience things other then food, taste the specialities with awareness and mindfulness. Get more active, wake up earlier and enjoy a nice walk or a new type of exercise. It is that simple!
And if you gain a few grams, just get back to your healthier routines as soon as possible. Let me know if you need help in guiding you to healthy habits again.