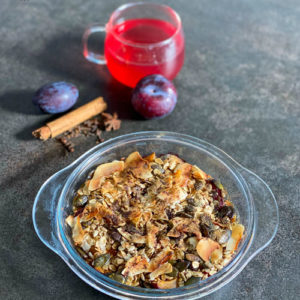 Baked Oatmeals with Plums
Don't you love Autumn? Here is a simple and delicious recipe for these golden months🍁🌻 That is the start of Vata in Ayurveda, the dosha of air and ether elements, the time of winds, cooler weather, dryness and roughness. That is why we crave for a warm-cozy afternoon, with tea and fresh baked crumbles!
Ingredients
2-3

Plums

(or 1 apple, deseeded and cut into pieces or a few tablespoons of homemade plum marmalade)

3-4

tbsp

Oats

1-2

tbs

Seeds like sunflower, pumpkin, flax, sesame

Coconut shreds or shaves to decorate

1

tbs

Coconut oil or ghee

Warming spices like Cinnamon, cardamom, clove, star anise

Pure Vanilla and pinch of pink salt

If you are not using a marmalade then you can add a natural sweetener like maple or date syrup, about 1teaspoon or 1tbs raisins/mulberries

1

tbs

Almond shaves or powder

(Optional)
Instructions
Set the oven to 160 degrees celsius

Brush half the the oil into your heat resistant dish

Place the fruits or marmalade on the bottom

If you are not using marmalade, drizzle a little maple or date syrup

Sprinkle oats, seeds, coconut, almond, spices, vanilla and salt

Drizzle rest of the oil on top

Bake for about 15-20min or until the opt is golden brown and fruits are cooked

Enjoy with a ginger-cardamom-hibiscus tea!
For Marmelade
For marmalade, simply cook the cut plums with a little bit of water and spices like cinnamon, clove, star anise, vanilla. You can add 1-2 dates, or raisins to make it sweeter if your plums are not sweet enough. First bring to boil and then simmer until they are soft. Add chia seeds (I added 2 tbs for about 1kg plums) before or after blending the plums in a blender or food processor and mix them all. Pour to jars while they are hot, seal well and let them cool. I keep them in the fridge just in case.