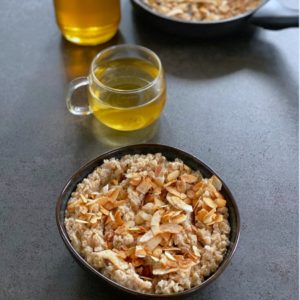 Ayurvedic Whole Grain Porridge
Porridges are my favorite breakfasts in the last couple of years. And this is coming from a Turkish who loves her cheese-olives-tomatoes-greens-egg-simit bagel or toast combination for almost all her life!
When I started Ayurvedic nutrition and learned that mornings are not the ideal time to eat raw vegetables, eggs, gluten, etc as our digestive capacity is really low, I started trying porridges.
I make different versions with oats, amaranth, quinoa flakes, barley, and buckwheats according to the season.
This Ayurvedic Whole Grain Porridge is a creamy, light, delicious one that is easy to digest and calms you down and gives you warming energy. Cooking with quinoa flakes is also easy but you can make it with oats and other grains, too.
Ingredients
1

tsp

Ghee

2

Cardamom pods, crushed a bit to crack open slightly

1

unit

Cinnamon stick or 1/3 tsp powder

(3 cm long)

Optional: Sweet Masala that you can find in bio shops or make yourself by mixing 1tsp of each powders: cinnamon-vanilla-fennel-coriander-cardamom-star anise-orange peel powder

(Optional)

1

tbsp

Sunflower seeds

1

tbs

sesame seeds

4

tbsp

Quinoa Flakes (or any other grain flakes)

Note that these are not the same with quinoa grain itself. these are the light an dfluffy flakes. You can replace with oats or any other grain.

1

tsp

Raisins

(or dried chopped dates, apricots)

1

tbsp

Optional: Vegan protein powder

I use organic rice or hemp poweder and avoid protein powders which have too many ingredients

To serve: drizzle of honey, maple, date or any other syrup

1/2

cup

plant based or regular milk

1

tbs

Optional: Almond and coconut shaves
Instructions
Heat a small saucepan and melt the ghee at medium to low heat. Add spices, sunflower, and sesame seeds toast for a minute so that spices give their aroma

Add the raisins, quinoa flakes (or grain of your choice) and mix them well with spiced ghee. You can add the protein powder and mix well

Add a little hot water, just to cover the ingredients. Mix well and simmer at low heat, covering partially. Keep some hot water next to it and as it absorbs very quickly, add a bit more slowly. You can also replace this next part of water with milk and adding it slowly as the porridge cooks

Cook about 10 minutes until everything is soft and cooked but not too dry. It should have a creamy texture

Meanwhile toast almond and coconut shaves in a small pan until they turn into lightly brown color

Serve warm with a drizzle of honey or maple/date syrup