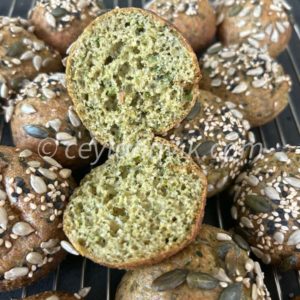 Mung Dahl (or Red Lentil) Bread Rolls
Recipe adapted from Dr.Doodoodelocious
Ingredients
200

g

(1 cup) Yellow mung dahl beans or dry red lentils, rinsed

20

g

(¼ cup) psyllium husk

60

ml

(¼ cup) water

1½

tbsp

Olive oil

½

tsp

Baking soda

½

tsp

Salt

½

tbsp

Lime juice
Optional 1
1

tsp

Digestive masala (mix of cumin, coriander, fennel seeds and , turmeric, ginger powders) plus a pinch of asafoetida (hing) for better digestion
Optional 2
½

cup

Fresh cheese like ricotta, mozerella, paneer, or goat cheese
Optional 3
¼

cup

Chopped herbs like dill, mint, coriander, parsley
Toppings
Mixed seeds e.g. pepitas (pumpkin seeds) + sunflower seeds + sesame seeds (black or white) or nigella seeds
Instructions
-Preheat the oven to 350°F/180°C.

Line a baking tray with parchment paper or a silicon mat

-Soak the yellow mung dahl beans or red lentils in plenty of warm water for at least 4 h or overnight, then wash well and drain it

 -Add mung dahl/ lentils together with all the ingredients (except the toppings) to a food processor but add lime juicelast (preferably on top of the soda). Mix them all well until the dough forms. If it feels too dry, add some more water until it reaches to a bread dough form.

Without waiting, shape the bread rolls by hand fast, with wet hands and roll the top in the seed-mixture and place it on the baking tray.

Bake for 25 min or until golden brown and crispy.

Remove from oven and transfer to a cooling rack and wait to cool for at least 15 min.