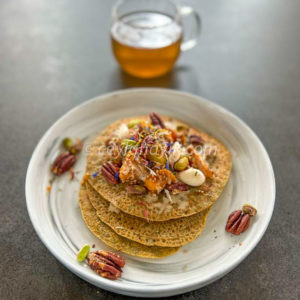 Ayurvedic Crepe
This delicious crepe, inspired from my teacher Laura Plumb, is made of mung beans and rice, fermented by soaking about 20hours in total! If you start soaking from the morning, you can enjoy it the next day!
It is totally worth the effort with its perfect texture and taste, no gluten-dairy content!
You can enjoy at breakfast with stewed fruits, marmalades, tahini, etc as well as for lunch with baked or steamed veggies.
Ingredients
1/2

cup

Mung beans

1/4

cup

Basmati rice

1

pinch

Pink salt

1

cup

Water

1

tsp

Sweet masala

(OR 1/4 teaspoon ground cinnamon, 1/4 teaspoon ground cinnamon, 1/2 table spoon ghee
Optional to serve
Fruit compote, date or maple syrup, marmalade, nut butters, toasted sesame seeds,
Instructions
Wash mung beans and rice and soak them about 10hours or over night, in water

The next day or 10 hours later drain and wash again and blend them with salt and 1 cup of fresh water

Place the mixture into a bowl again to stand for another 10 hours, covering with a tea towel

At the end of 10 hours, add the cardamom and cinnamon and mix well

Melt the ghee in a pan and add a enough of the crepe batter to cover the pan thinly

Cook for 2-3 minutes and until it is golden and flip to other side to cook both sides

To serve, add -fruit compote/stews/marmalades, date or maple syrup, nut butters to serve

Or enjoy with veggies for lunch, spreading some mashed avocado or guacamole or my detoxing herbs chutney