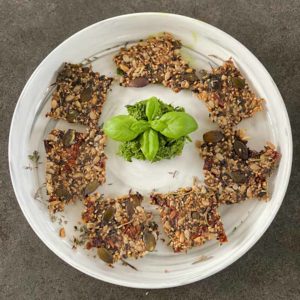 Super Seeds Vegan Crackers
This delicious crackers inspired from Laura Plumb's Spring cleanse and I made it a few times already this spring! The good part is, since the seeds are soaked overnight it is easier to digest (regular seed crackers are hard for me to digest).
Seeds are magical, combining healthy fats, omegas, and they are like brushes helping to clean your digestive track from toxins.
I added nutritional yeast to boost the salty taste, protein power and B vitamins. A mix of sea vegetables seasoning adds again additional nutrition with energy of the algues. And a touch of smoky red pepper to support the fire in your belly, the Agni, to melt your internal snow-freeze better!
Enjoy them with some herbs pesto (basically mixing fresh herbs with garlic-ginger-olive oil or avocado) or your favourite dip like humus, cacik (yogurt with cucumbers-cucumber and mint), roasted carrots & sweet potatoes mash with tahini…and the list goes on!
You can also enjoy them with your soups or if you need some crunchy taste with your midday kitchary.
What else would you add to this recipe?
Ingredients
1

tbs

Nutritional Yeast

1/4

cup

Nigella Seeds or Black Cumin

1/2

cup

Sunflower Seeds

1/2

cup

Pumpkin Seeds

1/2

cup

Sesame Seeds

1/2

cup

Flax Seeds

1

cup

Chia Seeds

1.5

cup

Water

1/2

cup

Dried Tomatoes

(Finely chopped)

1

tbs

Tamari or Lemon Juice

1/2

tbs

Dulse (Sea vegetables seasoning)

(Optional)

Sprinkle of smoked cayenne red pepper

Sprinkles of dry or fresh rosemary and thyme

Drizzle of olive oil
Instructions
Set your oven to 120degrees celsius/250F. You can also use dehydrator

Soak the sunflower, nigella and pumpkin seeds for about6 hrs or overnight in bowl with water and drain at the end

Soak sesame, chia and flax seeds with 1.5cups of water at least 1 hour before baking. They will become thick and gelatinous and act like eggs

Mix all of your seeds, dried tomatoes, add in pulse, nutritional yeast, tamari/lemon, and spices. Work with your hands to evenly distribute all. Drizzle a bit of olive oil, too

Lightly oil a parchment paper and pour your mixture here, spread with your hands. Top it with a second parchment paper and roll with a bottle or rolling pin until it is thin and spreads to your tray. Take out the top paper Drizzle a bit of olive oil again

Bake in oven for 1 hour on one side, take it out, cover the second paper and turn it upside down and then again bake about 40min to 1 hour until seeds lightly become brown

If you are using dehydrator, Laura suggests 7 hrs on one side and then 7 hours on the other side