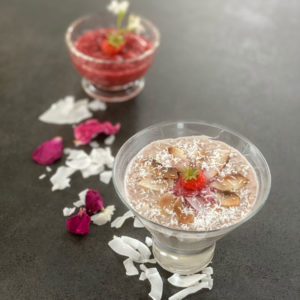 Strawberry Pudding with Chia & Coconut
It's summer time! It is the season of Pitta, lots of fire and water around. Here is a cooling, refreshing pudding idea, for breakfast or dessert or as a snack. Ayurveda teaches to pay attention if a food is cooling or heating and advises to consume them in the right season and temperature – to support balance and harmony in your wellness.
Coconut for example is a cooling fruit and better be eaten when it is hot-summer. It is not advised to eat& drink coconut during cold weather.
Geneva is going through phases of very hot weather followed by crazy storms! I feel like we are living in a tropical country now!
So I made 2 versions of this pudding, one is simply mixing chia seeds with coconut yogurt and adding strawberry jam I made before and topping with almond butter and date syrup before serving.
The second version is high protein since I added vegan protein powder to boost some energy! Mixing in the jam and almond butter also made it better taste!
I love this pudding with mango puree as well so use mango instead of strawberry or any type of berries.
So enjoy your summer healthy pudding and cool down a bit to balance your Pitta dosha. More cooling ideas are coming as I made many experiments lately with teas and smoothies!
Ingredients
3/4

cup

Coconut yogurt

1

tbs

Chia seeds

1

tsp

Almond butter

Coconut shreds or shaves to decorate

Date or maple syrup to taste

Pinch of cinnamon, cardamom and fennel powder

1

tbs

Vegan Protein Powder

(Optional)
Strawberry Chia Jam
1

cup

Strawberries

(Cleaned)

1

tbs

Chia seeds

Date or maple syrup to tast
Instructions
For the strawberry jam, simply add berries, 1tbs of date or maple syrup and chia seeds into blender, mix and then pour into a pan.

Cook for about 15 minutes on low heat.

Cool down and place in a jar and store in the fridge for about 1-2 weeks (so make small batches).

You can also make the same mix and not cook as well.

I prefer cooked fruits for better digestion and it is up to how your digestive fire is.
2 Methods for Your Pudding:
1st method. Simply mix chia seeds with coconut yogurt in a bowl and keep it in fridge overnight. Next morning top some strawberry jam, almond butter and date/maple syrup.

2nd method. Add almond butter, chia seeds and strawberry jam into coconut yogurt, mixed well and add protein powder if you like. Keep it in fridge all night and enjoy next day with some coconut shred decorations.