I first took up yoga in 2009 at my then office's gym and it was an extremely busy period of my life with high stress levels. Although I wasn't really aware of this at the time, I was also suffering from a kind of a mild depression. I think many people can relate to this story, at difficult times we start searching for ways to decrease our stress levels and how to relax our muscles after a long day sitting at the computer, driving or just sitting to attention in the rounds of endless meetings at work! All of these can elevate our stress levels and create a huge discomfort that affects all areas of our lives – and unfortunately ultimately lead to a form of depression.
Over the following years I tried to keep up with yoga classes, and even tried pilates – however, with a full time job, 2 small kids and the crazy Istanbul traffic it wasn't an easy task!
Luckily for me, when we moved for Geneva I had the luxury of taking a break from my marketing career and by 2015 had become a fully fledged Health and Nutrition Coach. It was during one of the coaching seminars that I came across another health coach that was also a yoga teacher! A wonderful lady in her early 40s that had realised the benefits of both nutrition and yoga and had combined the two – I was more than intrigued! At this moment, I knew that this was also the path for me – I had been toying with the idea for some time but meeting this lady gave me the push that I needed…I stopped procrastinating (as we are all guilty of…) and jumped on the band wagon!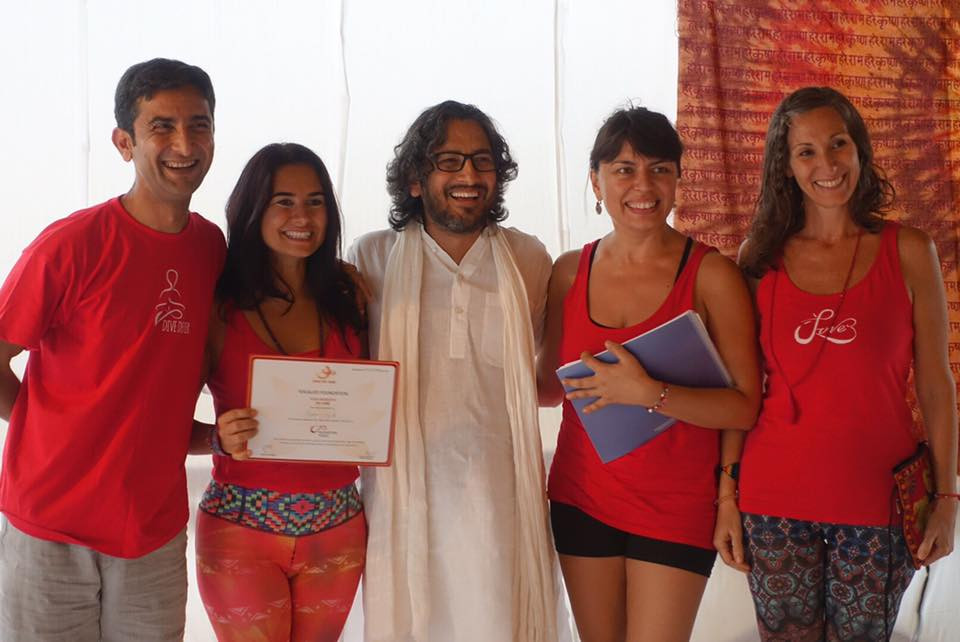 Yoga Teacher Training: "It is too late? Can I do all poses?"
I had many questions running through my head! I thought that becoming a yoga teacher in your 40s, with absolutely no background in fitness was an impossibility! Of course, being younger and fitter is always a bonus but as I found out – not a criteria! Yoga welcomes anyone at any age if you are willing to practice it regularly and with all your heart. You don't have to/need to perform all the poses to perfection, not being able to touch your toes in a 'forward bend' is not the end of the world (as many of my students complain that they can't do…), all you have to do is teach it in a way that encourages your students to try! So NO – it is never too late to take up yoga or become a teacher. If, as myself, you have been practising yoga for several years – even if it was only once per week for many years, moving up to bi-weekly sessions in a studio with a quickie at home when I had the time – and you are loving the experience, then yoga teacher training could be the next step for you. It will give you a better understanding of this beautiful philosophy and an introduction on how to practice yoga on a deeper level.
Almost half of the students who sign up for the yoga teacher training have absolutely no inclination of becoming a teacher when they apply! Their goal is to get a better understanding of yoga and practice with a new found confidence that the training brings. However, saying that…many actually DO go on to teach yoga with their new found confidence and want to share the joys of yoga with new students. For myself – I wanted to become a teacher from the beginning! During the last 2.5 years I have done 600 hours of training, that includes 4 different courses with different teachers – with 3 of them coming from Yogalife and all of them continue to hold a special place in my heart and the days that I spent with them count as some of the most precious days of my life!
Take a look at my blog post about my yoga teacher training in Goa, India – which is of course has to be counted as an extra special one! Just a few examples on how this training added value not only to my life, but also helped enhance the lives of my family, friends and my community.
Learning about yourself and life!
"Yoga Chitta vritti nirodha" is Patanjali's definition of yoga. It means that yoga is the removing of the fluctuations of the mind. Yoga is the stilling of the mind until it rests in a state of total and utter tranquility – so that one experiences life as it is – as Reality. Thanks to yoga and its breathing and meditation techniques, the mind becomes calmer and quieter and you can finally start seeing and feeling things clearly. This helped me to resolve some of the issues I was procrastinating for a while. A yoga mat and the practice is like a small laboratory of life.
And you are allowed to have some fun on the mat! Improving, working on and practicing your yoga on the mat can ultimately spill out of the 'Yoga Lab' and into your real life. How you behave in difficult situations, how you treat yourself and others, how much you surrender and let go of can all be worked out on the mat. These small changes that happen during a session is a direct reflection on how you behave in real life. For me, after each training, I discovered a whole new part of me that was totally in line with what was happening to me during those periods. Very enlightening and extremely satisfying. Somehow, yoga always motivates me and brings out the best in me.
Practicing yoga has given me a tremendous amount of courage, it motivates me to the core and inspires me to be a better person. It has taught me to concentrate on all the positives things around me and to accept and embrace the negatives as they are and not to fight or resist them! I am still on this journey with lots to learn and work on.
Into the magical world of yoga, mediation and breathing techniques
In fact, there is not much magic to yoga, it is quite simple and very straightforward! You learn how to breathe better and deeper, you explore various techniques for calming and quieting your mind and you practice and teach "asanas" which are different "poses" that helps to increase the strength-flexibility and condition of your muscles-joints and skeletal system.
The Anatomy part of practice sounds scary yet with my amazing dear teacher Anne MacNabb from Yogalife it was a simple pleasurable fun way to learn the mechanics of the body. Many of the attendees have solved their physical problems during these sessions. Just by correcting their posture and understanding why they have pain in different parts of their bodies and how yoga can help them. And having healed themselves they find the confidence to help others understand and ease their own pain with yoga!
A philosophy that has worked for over a thousands of years…and still works now!
Once you have learned the ancient wisdom and heritage behind this practice, you just want to know more and more! It is simply fascinating how these techniques relate to today's problems. As the world around us gets crazier and crazier, with the constant bombardment of social media and all other communications that we have become enslaved to, we all need to take a huge step back, get back to basics and reconnect with our body and minds before it is too late!
One of the most enjoyable parts of the yoga teacher trainings for myself was listening to Sanjeev Bhanot (another amazing teacher that has changed the lives of many people for better) and his explanations of these ancient wisdom and translating them into practical guidelines for everyday life. He has the ability to take a complicated text from old textures and explain in such an engaging and funny way that you can't believe how simple it is to see and how you can then apply the technique in your life.
The world of Spiritual Anatomy
We all know that emotions are an integral part of our physical body and yoga helps you to understand how these worlds work together and takes you to the world of spiritual anatomy! Like the nervous and hormonal system, you have this amazing world of spiritual energy and when it has some blockages, it leads to many illness and pains. Learning the techniques to unblock these knots is one of greatest gifts of yoga!
How do you become a yoga teacher?
A yoga teacher training is not easy and not for the faint hearted! You go through many physical and emotional challenges. Your limits are extend and go beyond your comfort zone. You have long hours of lectures and practices. Lots of homework, readings, yoga class sequencing and rehearsing…you sweat, get excited and are tired and exhausted all at the same time! However, the reward is so big and the journey is so satisfying that I have never seen one unhappy face or a depressed person in any of my trainings! Even in the most difficult moments you find a renewed energy to move on and learn more and go to the next level! And when you become a teacher and start seeing the changes in your students' life – this will be the only reward you will ever need! You get so much practice on how to teach in these trainings with a step-by-step approach that by the end of the course teaching will have become second nature to you. You will not believe how natural and easy it will be to teach, with the knowledge that you will know much more than your future students and how much you will love sharing your knowledge with them. Something that always amazes me is the people around you.
The meaning of yoga is to unite, join, attach and bind. In these trainings you will meet with people from all kinds of different backgrounds, all with different stories and lifestyles from your own, yet you will soon realise how similar we all are to each other. Yoga becomes the power that binds us together. As it unites body, mind and spirit, it also unites the students and teachers. We are all as ONE. In last 5 years – after 100s or possibly 1000s of classes, workshops, trainings and retreats I have almost always had the most wonderful teachers and the most fabulous attendees. Yoga has never failed me so far!
I would like to let you know that finally I am also a part of an academy where we teach how to be a yoga teacher! Anne (Yoga & Wellness Coach) and I created Beyond Yoga Academy to respond to the growing need for more than just another yoga class, more than just a self-care method.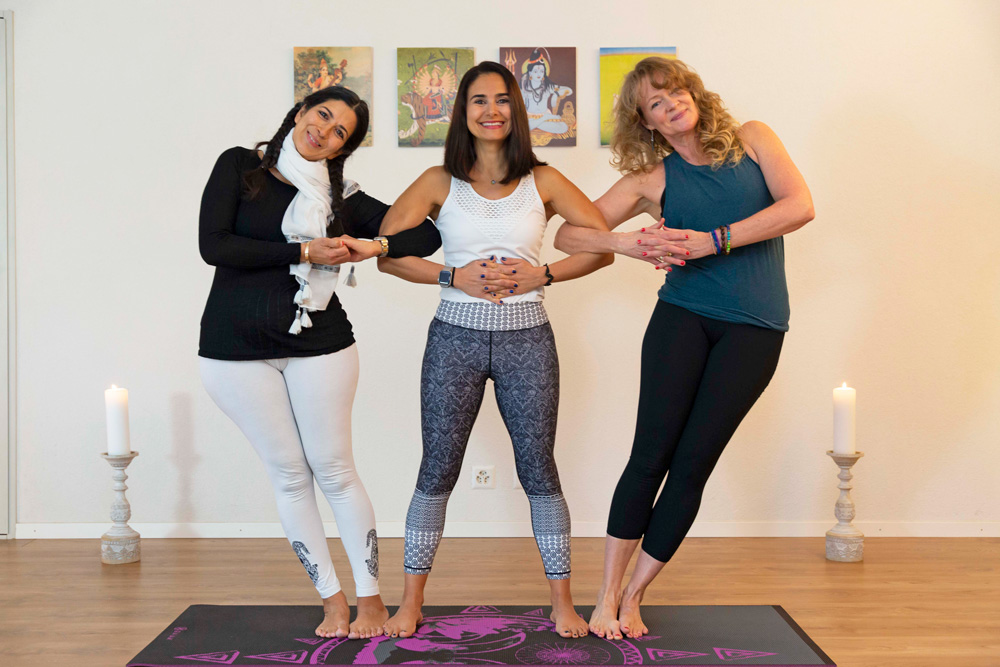 My Yoga Teacher Training Experience
During and after the yoga teacher training you often find that your family and friends will become curious about your training and will ask you to help them and even teach them some of your yoga moves! Starting small and in short burst, seeing the happiness and satisfaction in them could be one of the best gifts this training could bring! I recently had the pleasure to give some sessions and share my knowledge at my son's school and at a refugee camp. I also often give short sessions to my mom, cousins and friends whenever and wherever the opportunity arises! It feels so good to be able to help people and pass along a new skill and technique to help and make them feel better.
Diploma Day! My teachers and other yoga teachers, all with a big smile of happiness! In a nutshell, if you decide to become a yoga teacher or not, a yoga teacher training course will dramatically change your life forever in so many positive ways that will not only stay with you, but also with your family, friends and your community! The world needs this movement – and more yoga teachers then ever – YOGIS UNITE! On a final note, I will be eternally grateful for all the values yoga has brought into my life and being able to work as a independent teacher, giving group and private classes every day and having this new career that connects me to my community – but mostly the privilege of doing something that I not only believe in with all my heart and soul and love doing!