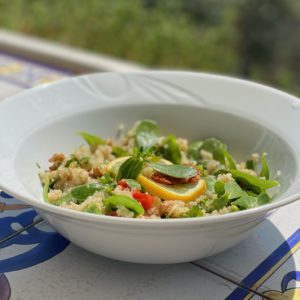 Artichoke Season
This was the last meal before the taste and smell were gone due to Covid, so this photo is so precious! You can imagine how someone called Fitgourme feels when the taste and smell are gone! And the biggest fun in Quarantine is of course food! Thank God I have a tiny kitchen, I can cook almost as I wish. Plus mom supports and sends me my favourite food. I am very lucky to enjoy the first 7 days like that.
As it is the season, the other day my mother sent artichoke with peas and onions. Before that, she had cooked quinoa for the first time in her life with a bit of complaining while cooking, "Oh dear, how do you cook this mushy stuff? Why don't I make you a bulgur pilaf with tomato and pepper"
I added some sprouted and steamed mung beans (yes, even in the quarantine kitchen, there is something soaked in the water every evening :), dried tomatoes and greens to quinoa.
Then I stirred the fermented lemon sauce (from Datca Kocamar), and it was a real feast. I loved this sauce, which contains fermented lemons, red / black / pink pepper, bay leaf, rosemary, sea salt. And it is the only taste that gives me a bit of sensation even though I can't taste and smell anything right now!
My mother's artichoke, on the other hand, was cooked in a very classical Turkish way, with onions, peas, lemon juice and lots of olive oil (plus I am sure she also secretly put sugar in it).
As I am also mostly doing an Ayurvedic Spring Cleanse with @lauraplumb these days, this "Istanbul meal" felt like a nice indulgence in between!
Ingredients
4

Artichokes

(Cleaned and kept in water with lemon juice)

1

small

Onion

(Thinly Sliced)

1

Lemon Juice

A Handful of Peas or Fresh or Soaked Fava Beans

2-3

tbsp

Olive Oil

Pinch of salt and pinch of sugar if you like

1

tbsp

Flour

Fresh herbs like dill, parsley, mint
Instructions
Sautee onions in olive oil until they are translucent

Add artichokes and place peas/fava beans on top

In a small bowl, whisk flour, salt, and sugar with 1/2 cup of water and spread over the artichokes. Add some more water if necessary – not covering them but just under the level of artichokes. Some like to use orange juice instead of using sugar-water mix and that also tastes nice

Cook over low heat until artichokes are soft enough about 20minutes

Add lemon juice and turn off the heat

Eat warm or cold and decorate with fresh herbs