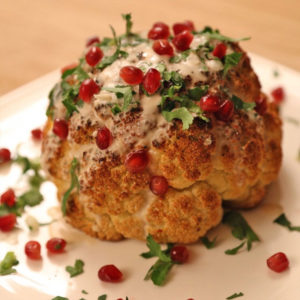 Baked Cauliflower Recipe | Turkish Kitchen
The Prettiest Cauliflower Recipe! We can even call is a cauliflower Birthday cake!! (no don't try on teenagers!!)
I first tasted this in Barcelona in a great vegan restaurant in 2015! That trip changed my life as we had the seminar with @nutritionschool @joshuarosenthal and I decided to do Yoga teacher training.
Barcelona inspired me to be brave, creative and colourful again! I miss traveling soo much but for now we keep memories alive and travel with the food we cook at home!
This cauliflower taste will blow your mind and be a feast for the eyes! The tangly tahini sauce, colourful decoration and sweetness of pomegranate, crispy smoky pine nuts are the best combination.
Ingredients
1

Cauliflower

Olive Oil

1/2

cup

Tahini

Spices: mint, pepper(red and black), cumin

1/2

Lemon juice

1

clove

Garlic

1

cup

Finely chopped parsley

1

cup

Toasted pine nuts and pomegranates to decorate

(Optional)

Salt and black pepper
Instructions
Put the oven to 180degree centigrades

Cover your cauliflower with olive oil and sprinkle your spices and salt

Bake it in the oven around 40-50minute, watch out the color towards the end, don't over brown

Meanwhile, mix tahini with lemon juice, stir well and then add some water to make the consistency as you wish

Add mashed garlic into this and mix well

When cauliflower is baked, take it out of the oven and pour over the sauce and then decorate with parsley, pine nuts and pomegranates.
Notes
Plus sometimes you might want to try different versions of cauliflower, other then the almost too trendy cauliflower rice:) Here is a delicious salad that you can enjoy with a touch of Turkish cuisine a unique combination of flavors of pepper paste, mint and onion!
Have you tried Cauliflower pizza? Click to see my caulidlower pizza recipe now: Unbelievably Delicious Cauliflower Pizza