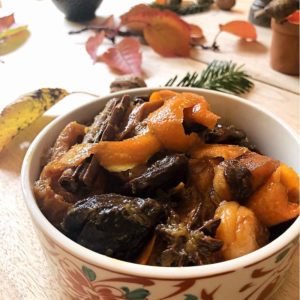 Seasonal Spicy Fruit Compote
Cooking your fruits with some spices is the best way to heal when your belly is bloated, you have some cramps and gas. Plus it becomes a delicious dessert on its own, or you can serve with some nut butter or coconut or regular cream on top, voila, here is your healthy snack.
Ingredients
Seasonal fresh fruits like apple, pear or in summer peach, apricots, plums. Also pumpkins go great.

Dried Fruits: Raisins, Dates, Figs, Apricots…

Optional: Walnuts, Almonds or Peacans

1

tbsp

Orange Zest

Ghee or Coconot Oil

(I rarely add this)

Spices of your choice like cinnamon (powder and stick), star anise, clove, ground ginger, cardamom

Water
Instructions
Chopt the fruits, deseed and clean. I keep the skins

If you are using ghee add it to pan, melt and add spices, saute for 1 minute

If you are not using the ghee just add the fruits, orange zest, spices, dried fruits and nuts

Add a little water not covering the fruits and even less. Stir them all well

Bring to boil and reduce heat to low, simmer for 5-10 miuntes checking the fruits

Serve warm, add coconut cream or almond butter with it. Use the remaining for your morning porridges or crepes
Notes
I also make a big batch, put them into jars while it is hot and preserve them for future usage. Adding a few spoons of the juice and some pieces of the fuits to your morning porrdige will be soo yummy and enriching. This easy delight will give warmth to your heart and ease to your tummy!
Enjoy, Afiyet olsun (in Turkish)