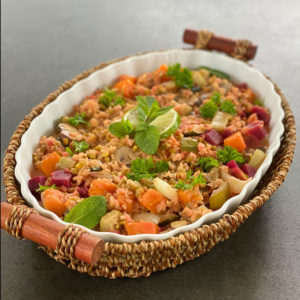 An Ayurvedic Meal for All Seasons, Kitchari Recipe
Kitchary is a delicious meal of Ayurvedic cooking, combining plant-based protein, healthy grains, and seasonal vegetables and mixing with spices and healthy oils. I make this dish for lunch and usually use it for dinner,b y adding a little hot water or broth to make a kitchary soup .
Ideally, you should be cooking fresh every day in Ayurveda yet, if you can not, this is a good compromise to save for the next day, too.
It is really simple and takes about 45 minutes to make.
Remember to soak mung beans overnight
Ingredients
1/2

cup

Basmati Rice

Soaked for 30-60min before cooking, drained and rinsed

1/2

cup

Mung Beans

Soaked Overnight and drained & washed

2

tbsp

Ghee

1 / 2

tbsp

Autumn Spice Mix

(1 Tsp of Each: Ground Ginger, Fenugreek (or cumin), Cinnamon, Cardamom; 1/2 Teaspoon of ground turmeric)

2

cups

Chopped Seasonal Vegetables

Carrots, pumpkins, celery, zucchini, green beans, asparagus, broccoli, etc)

Lime juice for seasoning

Fresh mint, parsley or basil to garnish

1/2

cup

Optional: coconut milk in summer

use during hot summer days only

Vegetable Broth or Water
Instructions
Rinse the rice and mungbeans very well under cool water and set aside

Melt the ghee and add the spice mix, stir 1 minute

Add the rice and beans and coat the spice mix well by stirring about 5 minutes

Add water/broth (and coconut milk if using) and boil, reduce heat and simmer for 10 minutes

Add vegetables and salt, and cook for another 10 minutes, checking in if all is cooked well and creams texture

Serve with a few drops of fresh lime juice, gransihing with fresh herbs
Video
Notes
Here is a complete meal with carbs, proteins and veggies, you can enjoy it as a rich lunch, during your cleanses or anytime you want a hearty, delicious and nutritious meal in one pot!
Adapt the recipe with different seasonal vegetables. 
You can put this in a thermos and carry to work or picnics.