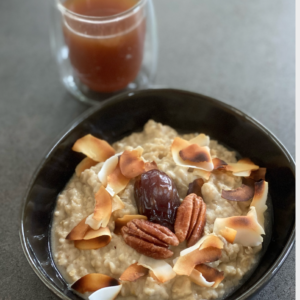 Ayurvedic Porridge
It is lightly sweet, spicy, warm, and creamy!
As a Vata-Pitta type of person, this is what satisfies me in the morning!
I learned this after long years of trial and error of various breakfasts.
This bowl has healthy fats, complex carbs and plant based protein and it feels good from the divine smell to the light feeling in tummy!
I sometimes make a seasonal fruit compote or just stew apples with some cinnamon and cardamom and add this to my porridge.
Ayurveda suggests not to mix fruits with any other ingredients and eat alone to support digestion. So I make this version just occasionally.
Ingredients
1

tbsp

Ghee or Coconut Oil

1 / 2

cup

Quinoa or Millet Flakes or Gluten Free Oats

1

tbsp

Coconut Shreads and some coconut shaves to decorate (toasted slightly)

1

tbsp

Freshly Grounded Flax Seeds and / or Chia Seeds

1

tbsp

Pumpkin or Sunflower Seeds

3 / 4

cup

Plant Based Milk (I prefer almond)

(and Maybe More)

1/ 4

cup

Water or Juice of homemade Seasonal Compote or if you soaked a date, the water of this. Recipe of homemade compote here: https://www.ceylanayik.com/seasonal-spicy-fruit-compote/

(If you are not using the seasonal compote, then a pinch of cinnamon, cardamom and ginger)

1

tbsp

Optional: Almond Paste or Any Other Nut Paste

1

tbs

Vegan Protein Powder

Optional

1

Medjool Date or 2 dried apricots or 1 tbs of mulberries or raisins

1

tbs

Optional: Maple or Date syrup or honey
Instructions
You can prepare this porridge by putting all ingredients (except the oil) together in your pan the night before and in the morning just warm it with your oil.

In a small pan melt the ghee and add the grain of your choice, coconut shreds, pumpkin or other seeds and spices.

Add the flax or chia seeds

Ideally soak your dried fruits like dates, apricots, etc overnight but if you have not, it is still good to cook. Just chop them into small pieces and add to your pan with all other ingredients.

Add the milk and water (or compote juice), stir well, lower the heat and simmer for 10-15 miuntes

Serve with your nutbutter or a drizzle of honey/maple syrup or add a few slices of cooked fruits from your seasonal compote

Garnish with coconut shreads

You can also make this porridge overnight by adding everything together and keeping them in airtight jar in your fridge. Next morning, you can melt the ghee and warm your porridge in about 2-3 minutes!
Notes
If I am doing an Ayurvedic detox, I follow this breakfast with kitchari lunch and vegetable soup dinners. I prefer to cook in the morning as I love the smell as the spices and grains meet each other with fire. I also add vegan protein powder if my day is busy with yoga teachings and daily errands, or a fitness workout making sure I have enough energy to get me going.
Here is my recipe but you can play around with the ingredients at home. You can replace apple compote with date or berries, making sure to soak the date overnight and cook your fruits to avoid raw foods in the morning, when our digestion capacity is less. 
Enjoy this rich and healthy start of the day!