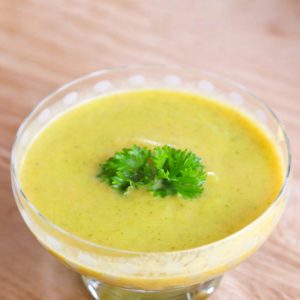 Magic of Soups
Magic of Soups for digestion and weight loss! If you want to have better digestion and at the same time shed some weights, eating light at dinner time will create the magic. If you are on an intermittent fasting with only 2 meals a day, then you might need to add protein and veggies/grains to your plate. However, if you eat 3-4 times a day, breakfast-lunch-snack and have enough protein-carbs-fats with these meals, you can make your dinner lighter with a green vegetable soup.
Green because you keep the focus on "non-starchy" vegetables and add no protein so that it is perfectly light for digestion and in terms of calories.
Ingredients
1

tsp

Garam masala or your own mix with: cumin-coriander-fennel-cardamom seeds pounded to powder and mixed with some cinnamon

(Up to you taste)

1

tsp

Fresh Ginger

1

tsp

Fresh or Powder Turmeric

(optional)

1

small

Carrot

1

small

Sweet Potato or Pumpkin

(Chopped)

1

cup

Chopped Spinach or Kale

2

cups

Any other seasonal vegetables at home

(Like zucchinis, mushrooms, asparagus, etc chopped in pieces. I prefer not to add broccoli, cauliflower and cabbage as they are more difficult to digest, you can add if you have no problem with digestion)

2

tbsp

Ghee or sesame oil or olive oil

Salt & Pepper to taste

1/2

Lemon / Lime Juice

Vegetable Broth or Water

(To top the vegetables and a bit more)
Instructions
Add your oil to pot, melt in medium heat and stir in the spices, sauté for 1 minute. Add the ginger and sauté another minute

Add the chopped vegetables (except spinach) and add your water (or vegetable broth) depending on how dense you like the consistency. Add salt and pepper to taste

Bring to boil and then simmer on low heat about 10 minutes. When veggies are almost cooked, add spinach and cook for another 3-5 minutes

Turn off the heat and add lemon or lime juice, blend them in a blender

You can top this with toasted pumpkin or sunflower seeds and garnish with some parsley/mint/dill
Notes
In Ayurveda, digestion follows the sun and so we have the highest digestion power at lunch time and less in breakfast and dinner. That is why it is much better choice to choose cooked food and especially soups for dinner time instead of salads and protein.
This little piece of information changed my life forever! Wish I knew this during the evenings I ate a big bowl of a rich salad for dinner and had a big bloated belly afterwards! Having said that, maybe your digestive fire (AKA "Agni" in Ayurveda) is better than mine, you are a "Pitta" type and can cope with raw food better.
Still, all types, especially women over 45 years old, will benefit so much from a light soup at dinner time, sleep better, waking up lighter, and tummy flatter! What else!
What is your favourite soup for dinner?