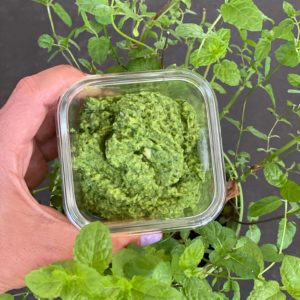 Detox Herbs Sweet & Sour Chutney / Sauce
This vibrant green, detoxing sauce is inspired from @lauraplumb 's Spring Cleanse program and since then I've been doing it every week, as soon as I buy fresh herbs and then storing in a jar and enjoying when I want. It is also a good way to make use of herbs that are about to go bad in the fridge.
Summer is the Pitta Season in Ayurveda. We need cooling meals and so adding fresh herbs, coconut shreds, lime will help us to cool down easier.
You can enjoy this sauce as a dip for Seeds Crackers or as a sauce to pour over your meals. I tried separately with salmon, tofu and kitchary and they all were great!
Ingredients
1

bunch

Fresh cilantro/coriander, basil, parsley, mint, dill (a mix of all or just the ones you like)

1

small

Clove garlic

2-3

cm

Ginger, grated/minced

1

tsp

Honey

1/2

Lime juice

1

Apple, cored

(Optional)
According to Your Dosha
Vatas: add 1 avocado or olive oil

Pitta: add in 1/2 cup shredded coconut; an omit garlic

Kapha: great as it is
Instructions
Cook the garlic dry in a pan on low heat for about 5 minutes, until it is slightly light browned

Place all the ingredients in a blender and blend until you have a chunky sauce

Add Salt & Pepper to taste!