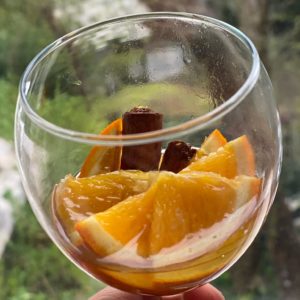 Orange & Cinnamon Soaked Honey
Spring is the season of regeneration and nature's abundance but also a heavy time, sometimes with clouds, rain and fog. There is something called, "spring fatigue" which is real and we feel the earth and water elements getting heavier in us, too. Ayurveda advises to go for drying and heating spices to stoke your digestive fire. Sipping ginger tea with your meals and adding zesty warming spices to your foods to help digest, assimilate and eliminate waste.
In the Spring, Ayurvedic spices such as ginger, cinnamon, clove, basil, oregano, black pepper, turmeric, cumin, coriander, cayenne, asafoetida (hing) and fenugreek offer flavor, aroma, healing wisdom and most of all, fire to your foods and digestion.
This delicious honey sauce combines 3 amazing flavours, honey-orange and cinnamon. Simply soak your cinnamon sticks and orange slices with honey, overnight. The next morning you can enjoy this delicious honey, eat orange slices with the skin -as it is not bitter anymore. I even sucked the cinnamon sticks!!
You can put this honey over your porridge, your afternoon snacks, to your golden milk in the evening. Rest is up to your creativity.
Honey is a miracle sweetener, which has a heating effect, decrease mucus and is perfect for Kapha and spring season. Combined with cinnamon, another drying and firing spice, plus orange which is a heating fruit with its sweet and sour taste, you have your own magical elixir for Spring energy!
Ingredients
2-3

tbsp

Honey

2-3

Cinnamon Sticks

1/4

Orange

(Sliced)
Instructions
Place orange slices and cinnamon sticks in a jar

Pour over honey and seal your jar

Keep overnight and use the honey and orange for your porridge, drinks, yogurts, etc.