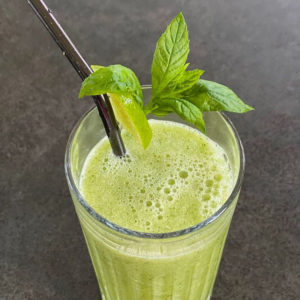 Cucumber & Coconut & Lime & Mint Smoothie
Refreshing but not frozen Smoothies to Cool Down!
Did you know that the best way to cool down is not ice cold drinks or ice-creams!! I did not know and recently learned from my Ayurveda training that ice cold of anything may feel like cooling you at first but then it blocks/slows down the digestion and so your body will need more energy to get back to its digestive energy and so heats you up again after a short while.Instead, room temperature drinks, made with cooling herbs, fruits, spices will give you better refreshment!😍
Here is one of my favourite and you can always play around with other ingredients at home. Make sure you do not make it too sour or salty as it would increase the heat and instead make it slightly sweet and use the cooling spices in the ingredients. Enjoy!
Ingredients
1/2

Glass of coconut water

(You can replace with a few tbs of coconut shreds and water blended together)

1

Medium size cucumber or apple (optionally peeled off) cut into pieces

A handful of mint leaves

2

Lime juice

A inch of Himalayan pink salt

1

Little Stevia tablet (1/8 tsp) or any other sweetener to taste (like maple or date syrup)

A pinch of grounded coriander and fennel seeds

1/4

cup

Aloe Vera gel or juice

(preferably 100% juice without sugar and with pulp)
Instructions
Simply blend all ingredients and then add salt and sweetener as you like.