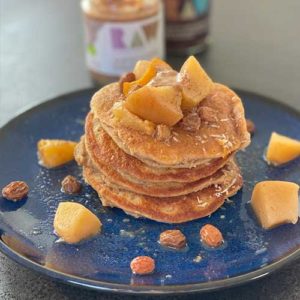 Perfect Pancake Recipe
Pancakes are not just for kids. These delicious andeasy to make pancakes are for me! From the famous recipe of @ambitiouskitchen(amazing site by the way!) , the blender pancake, with some Ayurvedic touchfrom me. Instead of more bananas, I love to eat them with a spicy apple stew,bringing a balanced sweetness and warm touch to these fluffy pancakes! Also,instead of oats I added millet another super grain packed with potassium,niacin (healthy skin!), fiber (digestion), vitamin A, antioxidants, the listgoes on! It is gluten free and if you buy the "flakes" it is light as featherfor your pancakes and porridges.
For the apple (or any other seasonal fruit) stew,simply cook them in low heat about 10-15minutes with a little water (notcovering on top), with spices like cinnamon, pure vanilla, cardamom, cloves,ginger. You can add a few raisins or one date to increase sweetness. Morestew/compote recipes are in my blog, link in my profile.
Ingredients
3

Medium Soft-ripe Bananas

2

Eggs

1 / 2

cup

Milk or Plant Milk

1

tbsp

Vanilla Extract

1 / 2

cups

Millet or Oats

2

teaspoons

Baking Powder

1 / 2

tbsp

Ground Cinnamon

1 / 2

tbsp

Spice Mix: Ginger, Clove, Cardamom

1 / 4

tbsp

Salt

Coconut Oil

(or ghee, butter, olive oil for cooking)
Instructions
Chop the banana and simply add all of the ingredients to a blender and blend on high until completely smooth, about 30 seconds to 1 minute. As the batter rests in your blender, you heat your pan up (start with medium heat and increase if necessary). Lightly coat it with coconut oil and place over medium heat

Once pan is hot, add 1/3 cup of the batter for each pancake and cook for 2-4 minutes until pancakes slightly puff up and you see a few bubbles along the edges

Turn your pan cakes and cook until golden brown on each side

Repeat with more oil if needed for the remaining batter. Makes about 9 pancakes total
Notes
In Ayurveda, it is advised to start your day with this stew as it will increase the fire of your digestion and improve it for the rest of the day. When I have time in the morning I make this routine. And if I am short of time, I add this to my porridge, granola or pancakes! Enjoy your fluffy, yummy, spicy pancakes! p:s. Sometimes I add a bit of almond and carob butter and make it a real bomb!!