It is time to share the secrets of a healthy, delicious, fit and gourmet table full of flavour and vibrant colours!
I have been cooking since my university years and reading and collecting cookbooks since high school. Now I have a library of books from cuisines from all over the world, from baking to traditional cooking. However, in recent years I have introduced a whole new range of books into my library, books on healthier eating, with my health coaching and yoga teaching trainings this has been essential.
I have always loved cooking for my family and guests, trying and sharing news recipes. However, over the last 2 or 3 years I have expanded my audience and started sharing my healthy buffets in my workshops and I am so happy how well they have been received and to hear all the positive feedback I get on my new experiments:)
I would like to share some of my favourite dishes and recipe ideas from my tables…so here you go! ENJOY!
1. Raw Vegetables with Dips
This is the all time favourite healthy finger food, colourful and delicious, crunchy and nutritious. I always try out a new new dip at my workshops and they usually work! For my previous dip recipes click here. The most recent ones are humus with beetroot and humus with grilled red peppers. After I prepare a humus, I love adding these colourful veggies and the result always fantastic and never let me down! I usually bake or steam the beetroot and mash it before I add to the humus. For the peppers, I sometimes use the ready made ones you can buy in jars, I just drain and mash them before adding to my humus base.
I also sometimes like to add the baked spiced tortillas, an alternative to chips and very good! You can find my recipe here.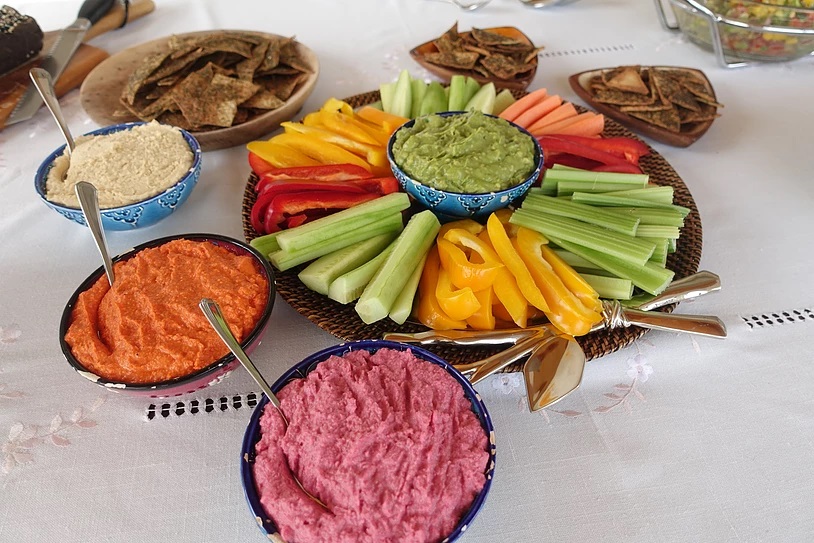 2. Quinoa or Bulgur Tabulee
Here is another healthy and delicious dish that guarantees satisfaction on the party table or…any other table for that matter!
This is a combination of fresh herbs, juicy pomegranate and hearty quinoa which is always a hit on the table! You can also add toasted pine nuts or walnuts to give it a crunchy kick! Here is the recipe on my website.
3.New Generation Salsa with Avocado and Mango!
This is my new and latest discovery! A combination of sweet and sour mango with red onions, avocado and tomatoes, all mixed together with lime juice and olive oil – is just amazing! I also added some optional roasted almond flakes to get some crunchiness in to this yummy dish! Here is the recipe for you to try.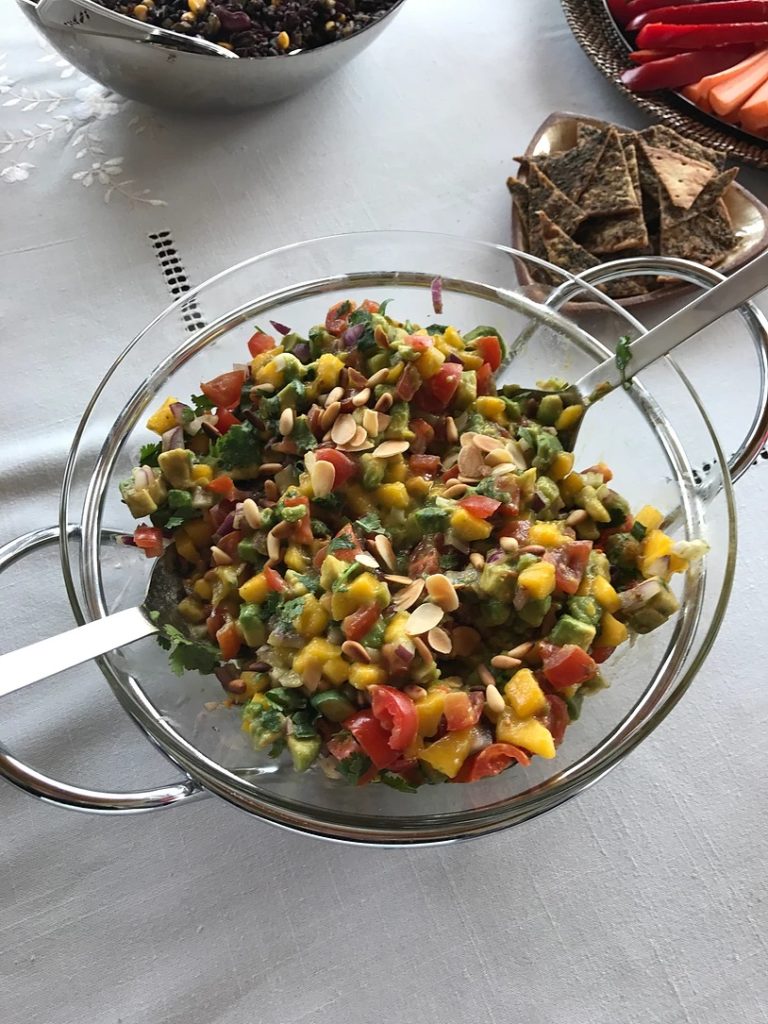 4. Zucchini Base Pizza
Just about eveyone loves pizza! But with this one there is a no carbs whatsoever – a total, all veggie version! Use zucchini or cauliflower as a base and create your own healthier, lighter pizza for a delicious and nutritious alternative. What to know how…here is my recipe!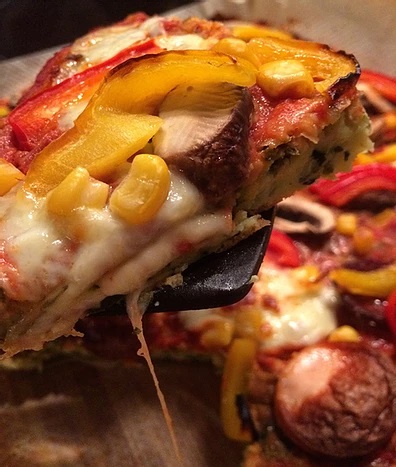 5. Grilled or baked vegetables
Another delicious, good looking and simple dish is grilled veggies! Especially if you are BBQing, this could even convince the meat lovers to try some!
Just put the cut veggies on to skewers and BBQ them, or bake/grill them in the oven. If you do not have time to BBQ them then just cut them up and bake them in the oven, they will taste great just as good. For more flavour, a few hours before grilling or baking marinate them with olive oil and spices – you can try thyme, mint, red pepper flakes, salt, black pepper, garlic, whatever you like…whatever floats your taste buds!
I recently made Madeline Shaw's baked sweet potato with almond flakes and it is the yummiest baked veggies I have ever tried! The secret was in the sauce made up of coconut oil, cumin, red pepper flakes, garlic, thyme, lemon juice and zest cooked lightly before pouring over potatoes. Once they are baked just add the toasted almond flakes and they are ready to serve like! Soo yummy and one of the most handsome dishes I have seen!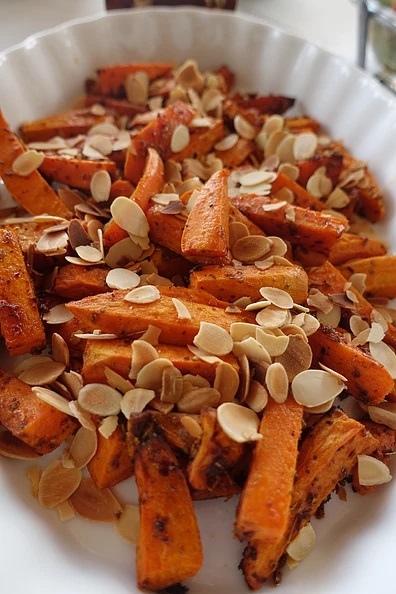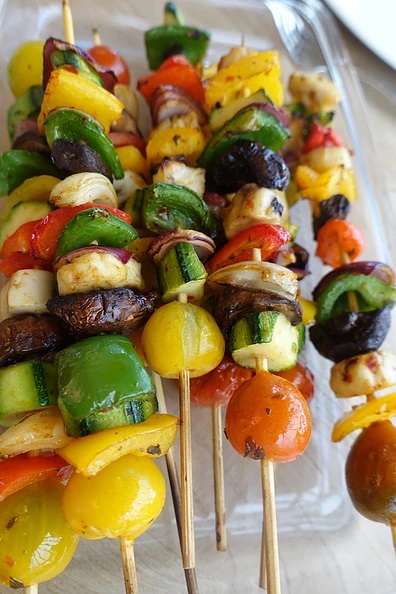 6. Desserts:
Here are 2 options for desserts! The first one is Chocolate based and second one is a Sweet and Sour Lime 'NO CHEESE' cheesecake!
This healthy Brownie recipe is a killer! It has contains no white sugar and is gluten free. I used Madeline Shaw's recipe's however, I made my own small adjustment by replacing the flour with chestnut flour and I used baked figs instead of berries.
I have also made this one with maple syrup instead of coconut sugar and it was simply divine! So you can make any of these recipes your own by trying slightly different ingredients!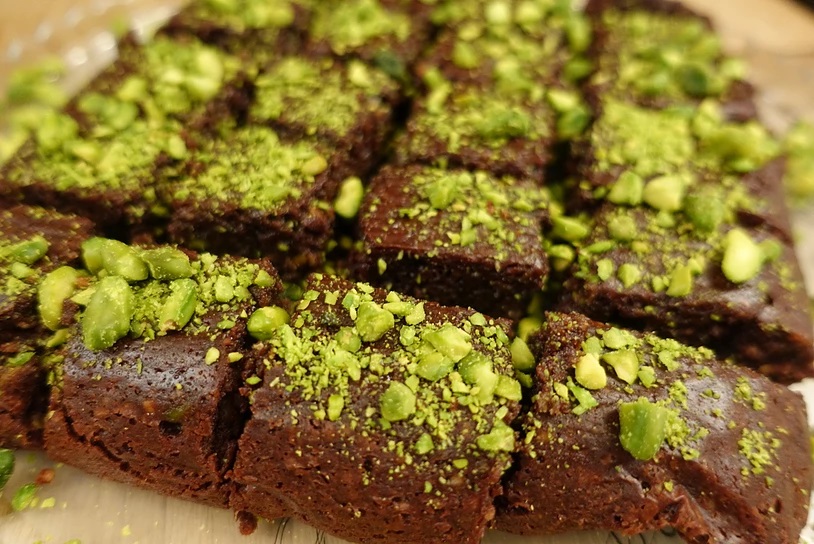 Lime and 'No Cheese' CheeseCake!
Another very interesting discovery for cheesecake lovers! This cheesecake is made up entirely of avocado and not a whiff of cheese insight! I know this may sound weird and a little bizarre but when you taste it, you will be really surprised Even my friends who usually don't favour the "healthy desserts" asked for the second slice!
The base is made up of raw cacao (which you can replace with regular 100% cacao if you so wish), coconut oil, dates, grilled pecans and shredded coconut. The filling is made with avocado, coconut oil, lime juice including the zest, coconut sugar and maple syrup (I adapted my recipe a little bit) but here is the original recipe for you to try!
I really hope you will enjoy these dishes and recipes and impress your family and guests – or make them for yourself, we all need a treat from time to time!
If you need any more recipes or any advice or help in making them, then just give me a shout! I am at your service!
Enjoy your healthy and delicious buffets, a la Fit and Gourmet style!